Air Shock Jump Boot Series
State-of-the-Art Leg Protection & Comfort
Designed with an innovative, shock absorbing air cushion for maximum flexor tendon impact protection and boot comfort, these anatomically shaped boots are lightweight, comfortable and sit perfectly positioned on the horse's leg. The boots do not absorb water, are durable, easy to clean and quick to dry. They can be manufactured in a range of attractive colors and are ideal for show or everyday use.

Air Cushion Technology & Concussion Protection
The Air Cushioning is made up of pressurized gas in a tough and flexible polymer bag. The air bag compresses to reduce and spread the force of impact. The air bag then returns to its original shape and volume. The air cushions are lightweight, durable and last the life of the boot. They will not degrade/weaken or get hard over time like many foams can. They are waterproof and do not allow dirt to enter.
The air cushions were designed to work as a system together with the specially shaped strike guard and inner foam lining. The air cushions lay flat in the strike guard space between the inner foam lining and outer strike guard shell. This provides additional protection that can be precisely adjusted to protect a specific area.
Air Shock Overview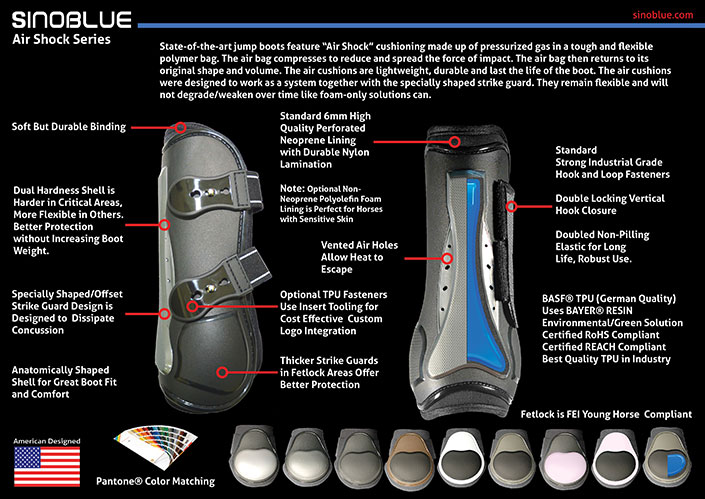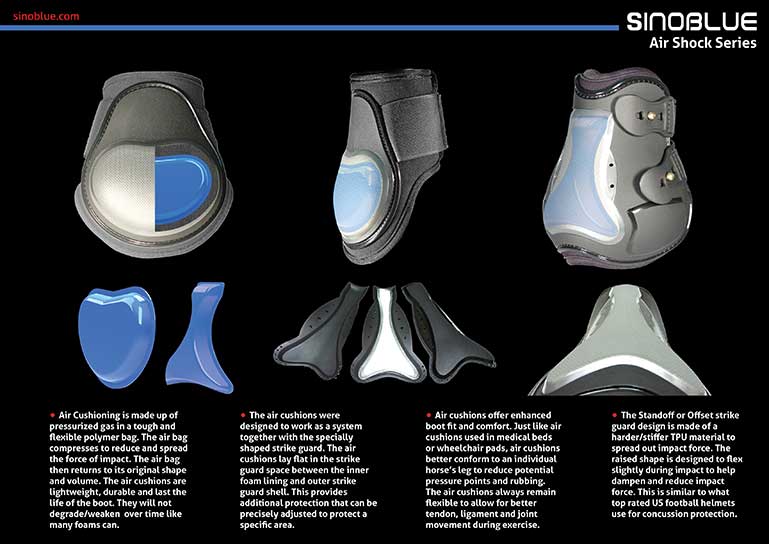 Air Bag Medical Benefits
The air bag strike system is designed to provide an improved and more comfortable boot fit when the horse is excercising. It allows the flexor tendon and fetlock areas greater freedom to move in the boot. Air cushions offer enhanced boot fit and comfort. Just like air cushions used in medical beds or wheelchair pads, air cushions better conform to individual horse legs that differ slightly to reduce potential pressure points and rubbing. Because air cushions always remain flexible over the life of the boot, they allow for better tendon, ligament and joint movement during exercise.
Dual Hardness Offset Strike Design
The Standoff or Offset strike guard design is made of a harder/stiffer TPU material to spread out impact force. The raised shape is designed to flex slightly during impact to help dampen and reduce impact force. This is similar to what top rated US football helmets use for concussion protection. The design has been independently tested by a customer to confirm up to 40% extra concussion protection than several leading brands.
Offset Strike Guard